Full Color Laser Light
Eclipse Solar 700 AVE RGB 700 mW Full Color Laser Light with Remote – $50.00
The Eclipse Solar from AVE is the starting range of the Full color Laser series, 700mW total power, with dedicated Red, Green and Blue Laser Diode, DMX compatible with stand alone, automatic and sound active functionality. An amazing full color effect with wireless remote included to change laser mode, only available at DJ City.
Main Features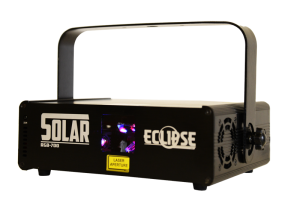 Laser Power: 700mW RGB
Includes wirless remote for mode changing and power
Heavy Duty Casting
High Powered, Full ColorEffect
Scanner System: Big Angle step motor
Working Modes: Sound Active, Auto Run, DMX512, Master/slave mode.
Interface: 3 pins XLR jack for DMX or Master-Slave linking
Input power: AC 110V~240V, 50/60Hz. Rated power: 30W.
Packing Size: L*W*H = 150*220*180mm; Weight: 1.5KG
*Not available for individual hire only available with other  products. Minimum total order $150
.